LOCATION MAPS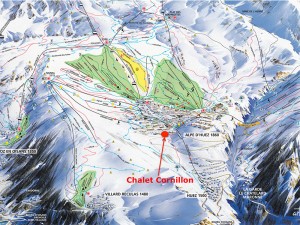 On Piste Map (click for large image)
[download pdf]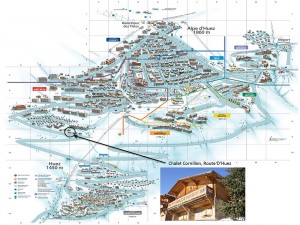 On Resort Map (click for large image)
[download pdf] VIEW ON GOOGLE STREET VIEW
Airport Transfers
We strongly recommend Chairlift.eu for your transfer from Grenoble Airport (our nearest airport – 1 hour 20 minutes) or from Lyon & Geneva.  Chairlift is owned & run by Guy Little an expat who has been based in the Oisans region for over 13 years.

Why do we recommend Chairlift?
Chairlift operate 9 seater minibuses including the driver (they have several should your group size be more than 8) and they drop and pick up from the chalet door.  Please note this is an enormous benefit to you when you factor in carrying large bags and ski equipment.  Your alternative is Bensbus – who stop at 3 places within ADH, meaning you have to get from the their bus stop (Gare Routiere) to the chalet, which is a 15 minute walk.  We would only recommend BensBus as a last option.  A better "2nd option" would be to hire a car, this is very cost effective and easy option for groups of 2-4 people.
Chairlift is a fully licensed and insured French-registered company holding a French transport licence. They are based close to Alpe d'Huez and run by Brits, all year round. All their drivers are English speaking. Their vehicles are modern long wheelbase Renault Trafics, fully equipped for winter conditions, with plenty of room for skis, snowboards and other luggage.
They meet you in Arrivals at your airport of choice and take you straight to the chalet, with the minimum of fuss. Likewise on your return, you are picked up at the chalet door and dropped at the terminal, as close to check-in as possible.
As part of the confirmation process, you will be given a driver name and telephone number as your point of contact.
Journey times are typically 1hour 30mins from Grenoble, 1hour 50mins from Chambéry, 2 hours from Lyon and 2hours 45mins from Geneva. Bottled spring water is provided for your journey.
Car Hire
EXCLUSIVE DISCOUNT TO ALL MOUNTAIN CHALET GUESTS – 10% DISCOUNT OFF CAR HIRE VIA RHINO CAR HIRE.
Rhino Car Hire are already a highly competitive car hire company serving the main 3 airports (Grenoble, Lyon & Geneva), but all Mountain Chalet guests qualify for an additional 10% discount.
If you want to hire a car to reach us, we recommend Rhino Car Hire who offer great value from all of the nearby airports including Grenoble, Lyon and Geneva. We have arranged discounted rates of up to 10% off their standard rates, details of how to redeem the discount are included upon booking confirmation or contact us in advance to more information.